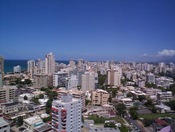 The Puerto Rico Association of Realtors presents the Project PC 1529 in the House of Representative in Puerto Rico. This new proposed Real Estate law will affect the local Real Estate market in Puerto Rico in many areas in the worst moment of the history of the Real Estate industry in Puerto Rico. The project prepared by a small group of new and disoriented Realtors clearly demonstrated the lack of knowledge and experience in the Real Estate field. The presented project doesn't count with the participation of the Real Estate industry in Puerto Rico. That is one of the reasons the project has many errors and a monopolistic practices.
One of the sections of the project that show the lack of knowledge of the proponents is the one that force any individual, that in their personal character bought and sale 3 or more properties in a year, to have a real estate license. This section is clearly to force the real estate investors to hire a real estate broker in order to buy or sell properties in Puerto Rico.
The real estate investors are the ones that are maintaining the industry in this moment. They created jobs and move the economy when they buy and sell properties.  If this small group of Realtors forces these individuals investors to have licenses they will contribute to affect more the economy of Puerto Rico.
My hope for the benefit of the Real Estate industry in PR is that the House of Representative and the Senators reject the presented project 1529.
There are no jurisdictions in USA where a Real Estate law forces an individual investor to have a license to buy or sell properties in their personal character.
Because instead of the proverb:
"Puerto Rico does it better" will be "Puerto Rico does it disoriented"
Fernando L. Baez
Real Estate Broker in Puerto Rico for more than 27 years and also posses Florida Real Estate Salesperson license since 1994. Member of the San Juan Board of Realtor since 1989.