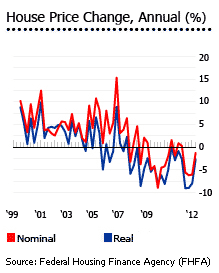 Puerto Rico's house prices fell by 1.3% (2.66% in real terms) y-o-y in the second quarter of 2012, according to the Federal Housing Finance Agency (FHFA), a decline noticeably lower than during each of the previous three quarters, which saw average price falls of 5.9% y-o-y (8.7% in real terms).
Zillow recorded a median house prices fall of 0.8% during the year to September 2012 (median house prices fell to US$ 198,500, from US$ 200,000 the previous year).
Property sales in 2011 were 50% down on 2008.  2012 has been worse.  The first quarter of 2012 saw a 47% y-o-y residential sales decline, to only 603 units, and Q2 saw a 30.4% y-o-y drop to 937 units, according to the research firm Estudios Tecnicos, Inc (ETI).
Bottoming out of recession
Puerto Rico is much poorer than Mississippi, the poorest US state, and its economy is heavily reliant on the US Federal Aid.  The shift from agriculture to manufacturing through Operation Bootstrap in the 1940s failed to increase employment, and for every three agricultural jobs that were lost, only one manufacturing job was created.
The government is now the biggest employer with one-third of the total jobs.  The payroll for the around 300,000 government employees rose by 47.5% from 2001 to 2009, or from US$ 3.75 billion to US$ 5.53 billion, an average annual state employment growth of 6%.  By 2011, Puerto Rico's public debt amounted to US$ 58.9 billion.
During 2000 and 2001, house prices appreciated by an average of 16.4% (9% in real terms) per year. But after the 9/11 terrorist attack house price increases slowed sharply, to 6.5% (0.4% in real terms) in 2002 and 7.2% (-0.6% in real terms) in 2003.
The Puerto Rican housing market has been sluggish since then.
The gloom was aggravated by the bankrupt Puerto Rican government's two-week shutdown in May 2006.  Then in 2007 and 2008 the US housing market crash left Puerto Rico with a 3-year overhang of luxury houses, and a 5-year  inventory of houses worth US$ 260,000 to US$ 420,000.
Efforts to downsize the government started in 2007, and intensified after Governor Luis Fortuño took office in 2009. Fortuño reduced the budget deficit from 44% of revenues at the time he took office, to 7% in 2011, slashing the deficit from US$ 3.3 billion to US$ 610 million.
In 2009 the cuts were expected to require massive layoffs of around 30,000 public employees. Due to labour union protests the layoffs were reduced to only 12,000 people, but nevertheless propelled unemployment rate up to 16.6% by May 2010. Puerto Rico's economy has been in recession since the second half of 2006 and the downturn continued in 2011, with a contraction of 1.5%.
But things are not as bad as they seem.  Compared with economic declines of 3.8% and 3.4% in 2009 and 2010 respectively, the moderate downturn last year suggests that Puerto Rico's economy is bottoming. And although still high, unemployment in Puerto Rico has been declining since April 2011.
"We have stopped the loss of jobs and begun to create new jobs," says Economic Development & Commerce Secretary José R. Pérez-Riera. By September 2012 unemployment was down to 13.6%.