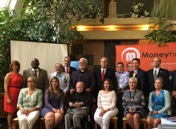 The San Juan Board of Realtors on March 19, 2015 in a unprecedented ceremony honor and award the Realtors members with continuous membership in the Board of 20 years and over. In a ceremony of friendship the Realtors get together and share pass memories and experiences with the Board and members.
The commitment, loyalty and hard work in the Real Estate industry of these professionals is a good example to follow by the new members in the industry, said the President of the San Juan Board of Realtors Adelaida Torres.
Fernando L. Baez Broker owner of Baez & Assoc. Real Estate was awarded in the ceremony for his 26 years of membership in the San Juan Board of Realtors.